Crystal-clear, boggy and mysterious: lakes in the Ausseerland
From Lake Altaussee to the Tauplitz mountain lakes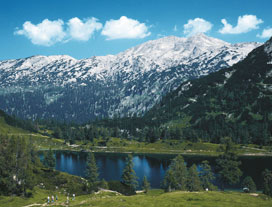 Clear lakes with best water quality
• Salza reservoir: the Salzach stream flowing through Bad Mitterndorf is dammed to form a 5.5 km long reservoir: Tip: boat rides!
• Lake Altaussee: lake of poets and thinkers, romantic route around the fully accessible lake, swimming area, boat rental.
• Grundlsee-Toplitzsee-Kammersee: classic three-lake tour, nude beach, leisure centre in Gössl, "iceberg" climbing at the family-friendly Gaiswinkl bathing area.
• 6-lake hiking trail on the Tauplitz: crystal-clear mountain lakes and panoramic views (summer mountain railway from Tauplitz).
• Spechtensee: car-free mountain lake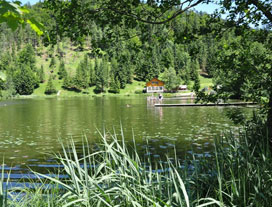 Bogs: swimming holiday in the Ausseerland
• Sommersbergsee: warm bog with lawn for sunbathing, bathing jetties, beach volleyball court.
• Ödensee: forest bog with boat rental, wide hiking trail around the sea, suitable for wheelchair users and baby buggies.
• Pullerersee Aigen/Ennstal: warm Alpine bog, family-friendly bathing area, bathing jetties, toddler pool, water slide, beach volleyball court and more.
Apparthotel Montana: holiday in the Ausseerland
Do you want to see the variety of lakes in the Ausseerland on your holiday in Austria? The Apparthotel Montana is only a few kilometres away from the most beautiful lakes of the Salzkammergut. Secure your spot at the lake: Send your non-binding inquiry today!
Booking